Scoreboards/Previews
MLB

NFL

College Football

NBA

College Basketball Scoreboard



Executive Club winning spree!

CALL 1-877-808-0878 for a great deal on the second half of the 2016 Baseball season as a Winning Points Executive Club phone service member! Members were making a +$5,800 profit on July 4, and it has zoomed up to nearly +$10,000 in less than two weeks since! MORE
Winning Points News


NFL 2016 Pre-Season Schedule

NFL Pre-Season Game ATS trends by head coach

College Football Teams, ATS records

Baseball betting tutorial

MLB Moneyline explanation

Handicapping MLB Pitchers

MLB Wagering: Pythogorean Formula

Baseball Parlays

Baseball Revenge?

Baseball Underdogs

Baseball Beaten Favorites

Baseball Day/Night

MLB Umpires and Alleged Effect on Totals

MLB Wagering Overview




Baseball Sign-ups!


The Best Time to Win Is Now!
Winning Points Executive Club game-day releases includes our strongest game-day
releases, every day! When you are a member for one week, 4 weeks, a half-season or full season, you receive the privilege of calling in EVERY GAME DAY for the roster of rated releases, and/or EMAIL notification!
More Details...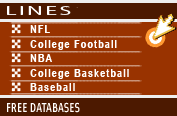 More Winning Points News
Fantasy sports companies drawing scrutiny from the law

A take on sports betting's place in America

Explanation of teaser wagers

An attempt at explaining 'value' in sports wagering

Fan vs. Bettor