Scoreboards/Previews
MLB

NFL

College Football

NBA

College Basketball Scoreboard



Executive Club Phone Service!
CALL: 1-877-808-0878

WINNING POINTS offers the most comprehensive online package of daily information for Baseball players. Series match-up overviews and spot plays in the Winning Points weekly, the Pick of the Day online, and important stats from the weekly that are updated every day for Web members. Ultra-Sharp members get MLB Totals picks on the Web, every day. EXECUTIVE CLUB: Now is the time to join for the best deals on Baseball phone service! Call 1-877-808-0878. Also, it's never too early to ask about Football season member benefits, for Online and Ultra-Sharp,, or the Executive Club! MORE
Winning Points News


NFL 2014 Pre-Season schedule

Home underdogs in NFL pre-season action

NFL pre-season head coach ATS records

Baseball betting tutorial

Baseball underdog tips

College Football: Over/Under Wins

NFL Over/Under Wins




BASEBALL SEASON
PACKAGES AVAILABLE
THRU OCTOBER!
1-877-808-0878: For Baseball, NFL and College Football, and NBA and College Basketball...the Winning Points Executive Club covers it all for the same base price: $100 for one week, $295 for four weeks, with combo deal discounts for two sports, great half-season rates for late-comers, and the best prices available for full season memberships. ALL FOOTBALL and BASKETBALL Executive Club memberships include both COLLEGE & PRO! Winning Points Executive Club game-day releases includes our strongest game-day releases, every day! When you're a member for one week, 4 weeks, a half season or full season, you receive the privilege of calling in EVERY GAME DAY for the roster of rated releases!
More Details...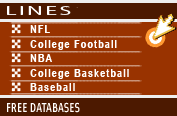 More Winning Points News
A take on sports betting's place in America

NJ sports betting hopes stifled

NFL rule changes

Percentages paying off for Oakland A's and GM Beane

How to coach like a jackass: by Mike Leach, Washington State

ESPN article says "injuries played a role in the NFL," as if they never have?

Las Vegas records set by Super Bowl XVLIII