Scoreboards/Previews
MLB

NFL

College Football

NBA

College Basketball Scoreboard


Winning Points News


2015 MLB Las Vegas Win Totals

MLB Wagering Overview

MLB Moneyline explanation

Handicapping MLB Pitchers

MLB Umpire Stats

MLB Wagering: Pythogorean Formula

An attempt at explaining 'value' in sports wagering

Fan vs. Bettor

Baseball Parlays

Baseball Revenge?

Baseball Underdogs

Baseball Beaten Favorites

Baseball Day/Night

MLB Umpires and Alleged Effect on Totals

St. John's makes worst coaching hire possible

More Final Four analysis




HOOPS PACKAGE
TO NBA FINALS
AVAILABLE NOW!

1-877-808-0878:

$395: All College Basketball and NBA releases through the NBA Finals in June!

Baseball season is upon us! Get in at the beginning of the phone service MLB season with great half-season or full season deals!
More Details...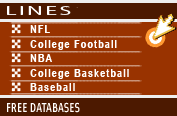 More Winning Points News
New Jersey legalizes sports betting, maybe

Leagues file to stop New Jersey from handling sports betting

Baseball betting tutorial

NFL rule changes 2014

How to coach like a jackass: by Mike Leach, Washington State

A take on sports betting's place in America

ESPN article says "injuries played a role in the NFL," as if they never have?

Las Vegas records set by Super Bowl XVLIII