Scoreboards/Previews
MLB

NFL

College Football

NBA

College Basketball Scoreboard



1-877-808-0878 Executive Club Phone Service info, sign-up!

Easy ***BEST BET winners Indiana, Iowa, Georgetown, Rhode Island in last week's issue! More to come! Access your Winning Points winners on the Web with College Hoops coverage in the weekly newsletter, supplemented by Pick of the Day action posted on game-day. As Winning Points subscribers count their winnings from the Weekly and Web Site NFL and College Football selections, the Basketball season has arrived! MORE

10-STAR TIME THIS WEEK!


1-877-808-0878


All sports in full swing right now. Great deals available during a highly profitable season for Winning Points Executive Club members!

COLLEGE BASKETBALL:
The Best Time to Win Is Now!
Winning Points Executive Club game-day releases includes our strongest game-day
releases, every day! When you are a member for one week, 4 weeks, a half-season or full season, you receive the privilege of calling in EVERY GAME DAY for the roster of rated releases, and/or EMAIL notification!
More Details...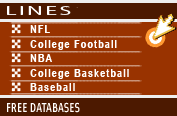 More Winning Points News
Retail parlay betting in Delaware has been important addition to the program

Federal Judges (who can't possibly be getting paid under the table) denies New Jersey sports betting

Baseball betting tutorial

NFL rule changes 2015

A take on sports betting's place in America

Explanation of teaser wagers

MLB Moneyline explanation

Handicapping MLB Pitchers

MLB Wagering: Pythogorean Formula

An attempt at explaining 'value' in sports wagering

Fan vs. Bettor

Baseball Parlays

Baseball Revenge?

Baseball Underdogs

Baseball Beaten Favorites

Baseball Day/Night

MLB Umpires and Alleged Effect on Totals