Scoreboards/Previews
MLB

NFL

College Football

NBA

College Basketball Scoreboard



Executive Club: Call us at 1-877-808-0878

WINNING POINTS ONLINE, WINNING POINTS ULTRA-SHARP, WINNING POINTS EXECUTIVE CLUB -- plenty of places to share Baseball winners with our people during the 2018 season! But when you see the screaming face of the Winning Points football guy, you know it's time to start preparing yourself for the upcoming College Football and NFL seasons! MORE
Winning Points News


Baseball betting tutorial

MLB Moneyline explanation

Handicapping MLB Pitchers

MLB Wagering: Pythogorean Formula

MLB Umpire Stats

Baseball Parlays

Baseball Revenge?

Baseball Underdogs

Baseball Beaten Favorites

Baseball Day/Night

MLB Umpires and Alleged Effect on Totals

MLB Wagering Overview




Now playing: BASEBALL
1-877-808-0878
The Winning Points phone service with an email option. Normal prices: $100 for 7 days trial. $295 for 4 weeks. Two-sport, or half- or full season membership earns a great discount!
More Details...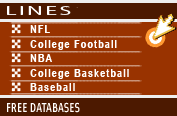 More Winning Points News
A measured take on the state-by-state options to legalize sports betting

New Jersey follows Delaware into the sports betting market

How the sports leagues will attempt to get $$$ from states' sports betting

Fantasy sports companies drawing scrutiny from the law

A take on sports betting's place in America

Explanation of teaser wagers

An attempt at explaining 'value' in sports wagering

Fan vs. Bettor