Scoreboards/Previews
MLB

NFL

College Football

NBA

College Basketball Scoreboard



Executive Club: Call us at 1-877-808-0878

WINNING POINTS ONLINE, WINNING POINTS ULTRA-SHARP, WINNING POINTS EXECUTIVE CLUB -- plenty of places to share Baseball winners with our people during the 2017 season! But when you see the screaming face of the Winning Points football guy, you know it is time to start preparing yourself for the upcoming College Football and NFL seasons! MORE
Winning Points News


Falcons' OC Sarkisian: 'More red zone targets for Julio!'

WR Decker latest veteran part tossed by rebuilding Jets

Houston coaches attempt to pump Tom Savage's talents

Titans' RB Murray loves his o-line

Steelers thinking: more man coverage, less deep zone

Baseball betting tutorial

MLB Moneyline explanation

Handicapping MLB Pitchers

MLB Wagering: Pythogorean Formula

Baseball Parlays

Baseball Revenge?

Baseball Underdogs

Baseball Beaten Favorites

Baseball Day/Night

MLB Umpires and Alleged Effect on Totals

MLB Wagering Overview




Football, Baseball sign-ups


The Best Time to Win Is Now!
Winning Points Executive Club game-day releases includes our strongest game-day
releases, every day! When you are a member for one week, 4 weeks, a half-season or full season, you receive the privilege of calling in EVERY GAME DAY for the roster of rated releases, and/or EMAIL notification!
More Details...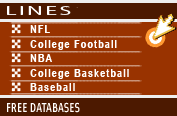 More Winning Points News
Headline says Congress takes "huge" step in legalizing sports betting in U.S., but in reality, it is a small first step

Former NBA commish advocates for sports betting

Fantasy sports companies drawing scrutiny from the law

A take on sports betting's place in America

Explanation of teaser wagers

An attempt at explaining 'value' in sports wagering

Fan vs. Bettor