Scoreboards/Previews
MLB

NFL

College Football

NBA

College Basketball Scoreboard


Winning Points News


College Football 2015 Over/Under Wins

NFL 2015 Over/Under Wins

The NFL Knee-Jerk report from August Week 1

Vikings OT Loadholt tears achilles

Arkansas RB Jonathan Williams injured

Notre Dame DT Jones injured, out for season

Ole Miss OG Rod Taylor injured

2015 MLB Las Vegas Win Totals

MLB Wagering Overview

MLB Moneyline explanation

Handicapping MLB Pitchers

MLB Umpire Stats

MLB Wagering: Pythogorean Formula

An attempt at explaining 'value' in sports wagering

Fan vs. Bettor

Baseball Parlays

Baseball Revenge?

Baseball Underdogs

Baseball Beaten Favorites

Baseball Day/Night

MLB Umpires and Alleged Effect on Totals





1-877-808-0878:

$1,295: All Baseball through the World Series, plus all College and Pro Football through Super Bowl 50 in February! Football season is upon us! Get in at the beginning of the phone service College/NFL seasons with great full season deals!
More Details...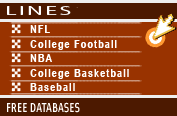 More Winning Points News
Retail parlay betting in Delaware has been important addition to the program

Federal Judges (who can't possibly be getting paid under the table) denies New Jersey sports betting

Baseball betting tutorial

NFL rule changes 2015

How to coach like a jackass: by Mike Leach, Washington State

A take on sports betting's place in America